POLITICS ON THE HUDSON Blog | Joseph Spector, Albany Bureau Chief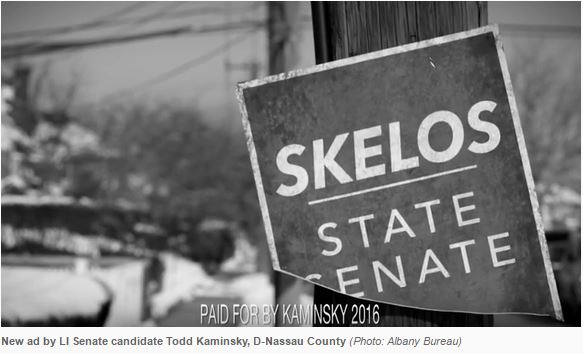 ALBANY — Cleaning up corruption is at the center of the new ad by the Democratic candidate in the crucial Long Island Senate race to replaced convicted Senate Leader Dean Skelos.
Todd Kaminsky, a Democratic assemblyman and former federal prosecutor, is running for the seat against Republican Christopher McGrath in the April 19 special election.
The winner could help determine who control the Senate for the remainder of the year in the narrowly divided chamber.
"If we're going to clean up our government, let's start with someone who has already done it," Kaminsky's ad, which was released Monday states.
McGrath, who is a trial lawyer, is running as a first-time candidate.
"He not a politician, has never before run for elected office and is a lifelong resident of the district," his biography said.
Skelos was booted from office in December after he and his son, Adam, were convicted of a scheme to enrich the younger Skelos' business interests. Kaminsky's ad shows Skelos and his son walking outside the courthouse.
In a statement, Kaminsky said: "We must end corruption and end it now. As a former federal corruption prosecutor, I've taken down both Democrats and Republicans–because if you break the public's trust, you must be held accountable."
Scott Reif, a Senate GOP spokesman, knocked Kaminsky in what will be a heavily-funded race by Democrats and Republicans.
Republicans are trying to tie Kaminsky to the New York City Democratic political machine.
"Todd Kaminsky's slick new TV ad fails to mention that he's running for Senate to team up with the same New York City radicals who enacted the MTA payroll tax, took STAR rebate checks away from seniors and homeowners, and shifted school aid to New York City at Long Island's expense," Reif said.
Michael Benjamin
http://CorruptionCrusher.com/
@SquarePegDem
www.Facebook.com/SquarePegDem
www.YouTube.com/SquarePegDem
Skype: SquarePegDem
Mobile: 862-232-4085